Saturday,

May 6
10:00 am - 3:00 pm
FerryCon is our all day, yearly "Comic Con" style flagship event for all ages! For 2023, we are calling all talented comic book, graphic novel, and super hero artists, authors, and cos-players to fill out our lineup. There is no table fee, but donations to @dobbsferrylibraryfriends are strongly encouraged (suggested value $15 or more). If interested, please email your name + social media handle, a short bio, a headshot pic, item you will be donating, and link to your work to our FerryCon Chair Tim at TDeery@wlsmail.org

Artist Damien Torres (Marvel, Netflix, HBO Max)
Damien Torres is a New York-based artist who has worked on various art projects, from trading cards to comics. Before graduating from The Kubert School in 2014, he got his first professional art job working with Cryptozoic on the card set for The Hobbit: An Unexpected Journey.  Ever since, he's worked with publishers like Dynamite, SomosArte, Aspen, and more. Damien also has credits on Netflix docuseries, The Family, and HBO Max docuseries, Generation Hustle. Damien is the current artist on The Winchester Mystery House for Source Point Press, and an artist for Atomic Mass Games' Marvel Crisis Protocol.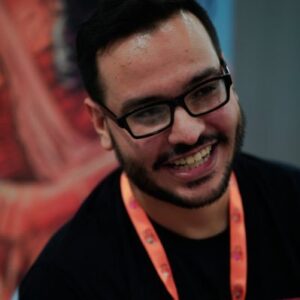 IzzyVerse
Izzy has been working in the comics industry for over 20 years. He has worked as an artist, editor, and consultant for Pronto Comics and Creative One Comics. On his weekly 6:30pm EST Monday YouTube Show IzzyVerse, he interviews Comic Creators, Wrestlers, does a weekly comic pull list review, and spoiler reviews for movies & tv shows.  You can find him on all social media @izzyversenyc.

Paige Monte (Sesame Workshop, Google, Twitch)
Paige Monte is a storyboard artist, animator and art teacher in New York. She graduated from Massachusetts College of Art and Design with a BFA in Animation and is currently getting her Masters in Art Education from Hunter College.  Paige also works as an art teacher in an after-school program for children of all ages, focusing on digital arts and animation and is currently open for work as a Storyboard Artist. She has created animations for music videos, YouTube videos, Twitch channels, Sesame Workshop, Google, and illustrated children's books as well.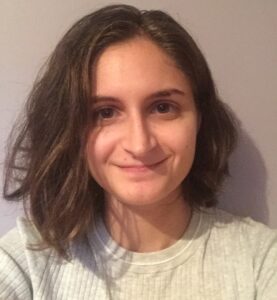 2pm-3pm – Cosplay Contest (All Ages – 3 Categories Children/Teens/Adults)
YOU CAN PRE-SIGN UP ANYTIME until 2pm on May 6th for a chance to compete and win one of this year's coveted Owlie Awards from one of our special guest judges!

10am-3pm – Raffle (All Ages)
Support the Friends of the Library by purchasing raffle tickets from them and win a whole host of raffle items! Visit the library any time during open hours May 1st until 3pm May 6th to purchase tickets — $3 for 1 ticket or $5 for 2 tickets. All sales are final. Raffle winners will be announced at the end of each program. Winners can pick up items during open hours via appointment (914-693-6614.)  please note: unfortunately raffle tickets cannot be sold online as per NY State Gaming Commission regulations
10am-3pm – "Chalk the Walk"  (All Ages)
Come visit the library anytime during open hours between May 1st- May 6th to add a super hero doodle, comic strip, or your next great masterpiece in chalk (provided) to our outdoor Plaza grounds.  Family-friendly drawings will stay up as long as possible, given good weather.

10am-3pm – Superhero Scavenger Hunt (Ages 3+)
Pick up a scavenger hunt sheet and find everything on the list so you can claim a prize at the circulation desk!

10am-3pm –

Comics Photo Booth
(All Ages)
***
You can watch our virtual FerryCon 2021 events —> HERE *note there is a corresponding clickable timestamp link for each event in the video description
for general FerryCon info go —>  HERE